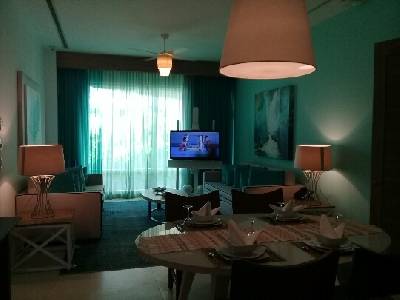 Hotels
The Grand Cascades Nuevo Vallarta at The Parks
|
The Grand Cascades Nuevo Vallarta coming along with the upcoming, one in the world new attraction.
The Parks, The brand new amusement park, will come along with great logde options within.
Vidanta Vallarta Residence Club
Developed as a private accommodation for members.
Will be a great benefit to their personal account with this company.|
The Grand Cascades Nuevo Vallarta at Grupo Vidanta Cirque du Soleil Park
As well as it's name suggest, it is nicely designed and furnished with some water and wood like colors in mind.
A perfect accommodation for families looking to have some great time away from home.
Having a nice and comfortable place to rest and stay a few steps from the fun and enterntainment.
To continue enjoying of the great amenities this places have to offer.
Allowing to stay up to 8 persons, a whole family could fit in it.
Equiped with all you need, from full kitchen, fridge, dishes and more.
To enjoy more than a visit to this park, some great vacations.
In Nuevo Vallarta In the Riviera Nayarit, next to the traditional and world famous, Puerto Vallarta Mexico.

You may like this: